Auction
Last Updated: 2018-01-15 01:52:20 (k73sk)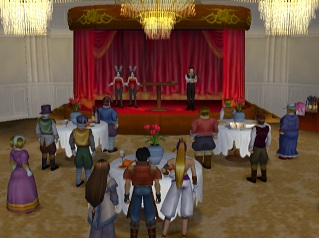 One of the most debatable places in Legaia 2 for players is the Auction House. Many people have claimed to have obtained a <Heaven's Secret> from this, but there has yet to be a screenshot to provide proof. Additionally, some have taken the measurement in auctioning for hours to see what items are possible; even taking note of the ORDER that they come in. In response to all those, the list below was not formed from *any* other sources, nor what order they come in, etc. If a <Heaven's Secret> is found, it'll be known here (as well as the Phorchoon Items page and <Heaven's Secret> page). But based on the number of <Heaven's Secret>s in the game, there are heavy doubts.
Below is a table of the items that have been observed to be in the Auction, in the order that they were observed in. This is not including the item that you need to win at the Auction for the Guild Mission, Reik Flowers.
NOTE: The item order is read Left->Right, Up->Down. First Inscribed Sword, then Leaf of Mysticism, etc.